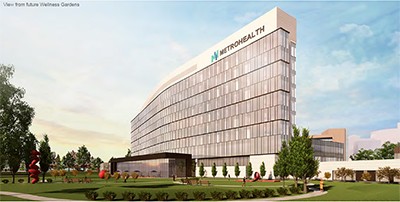 OUR COMMUNITY
OUR NEIGHBORHOOD
SAVE THE DATE
August 6, 8 and 15, 2019
6-7:30 p.m.
MetroHealth Medical Center
Center for Campus Transformation
2500 MetroHealth Drive, Cleveland
Interested in learning more about our Campus Transformation?
Want to give us ideas or get more information about our exciting plans for the neighborhood, including our new housing investments?
Want to take a cool, virtual-reality tour of our new hospital?
You can do all three during open houses we are hosting along with Ward 14 Councilwoman Jasmin Santana during August (Refreshments will be provided).
Let's continue the conversation and work together to support and strengthen our community.
What: MetroHealth Open Houses
When: 6 to 7:30 p.m. on August 6, 8 and 15, 2019
Where: Center for Campus Transformation, MetroHealth Medical Center, 2500 MetroHealth Drive, Cleveland (free parking available in the lot at the corner of West 25th Street and Sackett Avenue)
Cost: FREE – RESERVATION Required. Please make a reservation by August 5